It is one thing to experience a FIFA Women's World Cup. It is another to work on it! On the 27th and 28th of July, SDA was so proud to partner with the Australian Government and deliver a Reverse Mentoring Workshop, attend the Nigeria-Australia fixture,  and run a huge Gender Equality Symposium the following day.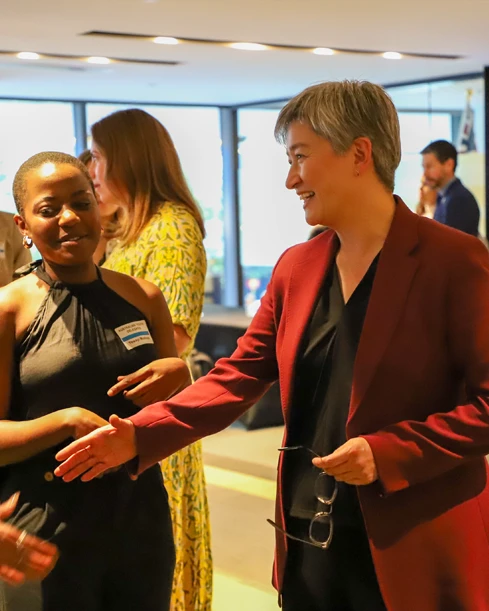 Senator Penny Wong meeting the delegates.
Our co-Founder – Professor Sarah Kelly OAM – flew the SDA flag, ran the Workshop, and spoke wonderfully at the Symposium on the influence football can have on gender issues, gaps, and programs. She was in good company, sharing the stage with young indigenous sportswomen and leaders, the U.S. Secretary of State Anthony Blinken, Australian Minster for Foreign Affairs Senator Penny Wong and many a sporting legend, such as NBA super-star Paddy Mills. Paralympian Madeline de Rozario summed up the special atmosphere the event generated, noting that she had only "ever experienced the same in the Olympic Village."
Such is the power and influence of Sports Diplomacy, as well as the small matter of a Mega Sporting Event, to attract the elite levels of government, industry, and sport. The strength of a Sports Diplomacy event, however, also lies in the audience. 250 equally impressive delegates flocked to Brisbane for the Symposium. Olympic Champions, Premiers, and Sports Diplomats from all over the region mingled with University Students, member of the armed forces, and a huge cast of sporting heroes ranging from Nat Cook (2000 Sydney Olympics Volleyball legend) to the sublime MC (Paralympian Annabelle Willian OAM PLY), to a group of inspirational young women who drew a long standing ovation: the inspiring under 18 Afghanistan Women's Football Team.
Here are some highlights, for those of you that didn't make it there:
at 11.15 million viewers, the Australia versus England Semi-Final is the most watched TV event in Australian history

the 2023 FIFA WWC was one of the most attended women's sporting events in history

"the best and greatest and biggest FIFA Women's World Cup ever" – FIFA President Gianni Infantino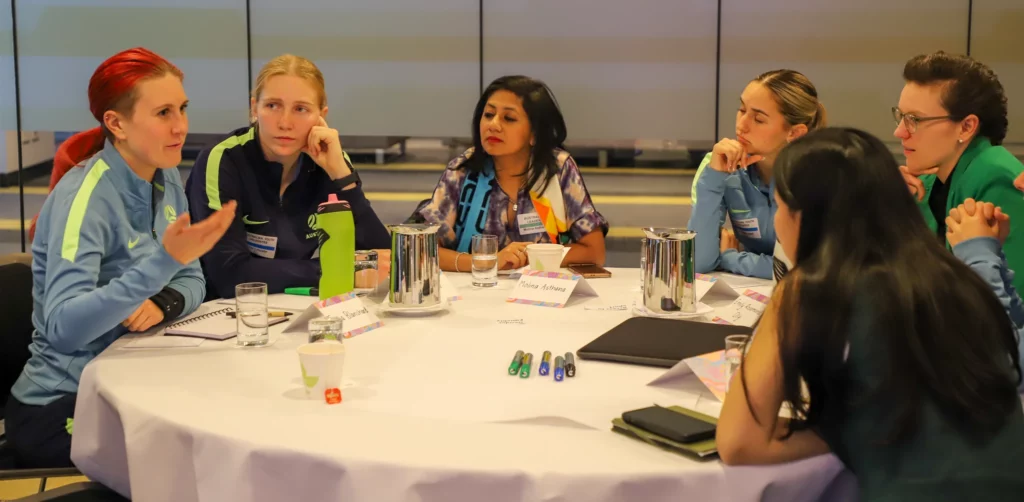 While much has been written on the football, gender and commercial impact of the Tournament – perhaps best summarised in the July, 2023, Academy of Sport Briefing Paper on the 2023 WWC – the same cannot be said of the diplomatic impact. Men and women in Australia, New Zealand and The Pacific are still "estranged", Domestic Violence is rising, and women's participation in sport not guaranteed. As Secretary Blinken pointed out, citing the WEF Global Gender Gap Report 2023 – "closing the overall gender gap will require 131 years." Like it or loath it, sport – and Sports Diplomacy– is still a men's game. Consider the fact that the great Sports Diplomat, Professor Laura McCallister, is the only female member of UEFA's Executive Committee. Pay disputes between players and their anachronistic sporting regimes continue, and as Postlethwaite, Sherry and Jenkin, rightly argue, write "academic scholarship, thought and practice [on SD] are seldom considered with a sustained gender lens."
"When space is made for women to succeed, they fill it, and create more space for others. And enrich their communities and countries in the process. This is why gender equality matters."

Senator Penny Wong – Australian Minister for Foreign Affairs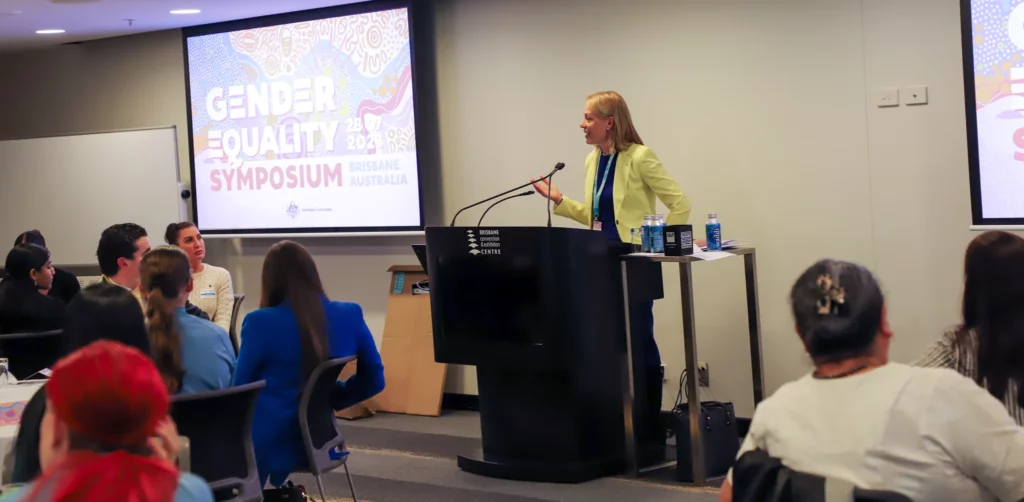 Furthermore, the organising committee could have done a better job of delivering a regional, Pacific event, rather than one that benefitted Australia and New Zealand. And, worst of all, there was hardly any football to watch; so many games were locked behind paywalls. Over the past month, we spoke to so many visitors from overseas, as well as diaspora communities in Australia, who were hugely frustrated that they could not watch their teams play on free-to-air television. In short, and we've been to and worked on a few MSEs, these elite, international juggernaut tournaments represent and echo a dated, 20th century message: fans are simply there to watch, nor participate; we are to be spectators, not players.
"It was a pleasure to speak with incredible women such as the Hon Penny Wong, the Hon Katy Gallagher and the Hon Ka J Smith and to hear from allies such as Olympian and NBA Champion, Patty Mills and the United States Secretary of State Antony Blinken."
To achieve sustainable gains in gender equality is to, we argue, continue to embrace Sports Diplomacy, its players, theory, policy, strategies, methods, and critical abilities. Women, as we pitched at every event, should be offered basic diplomatic training, particularly in some medieval, patriarchal societies that are not as fortunate as many countries in closing the gap between men and women. Australia and New Zealand, the hosts of the FIFA WWC, can do more – using their remarkable, world-class sporting power, networks and wealth to inspire women all over the world. The former also has a few more MSEs coming to the Lucky Country – the 2023 FIBA Basketball World Cup, the 2027 men's and 2029 women's Rugby World Cups and the jewel in the crown: the 2032 Brisbane Olympics. Each tournament provides a 'once in a generation' opportunity to figure out some shared goals, and how – working together, in whole-of-nation teams – figure how we can all strategically harness the power of sport for positive gains. One thing is for sure: SDA will be there, flying the Sports Diplomacy flag, innovating, and – as ever – 'joining the dots' between different groups of stakeholders that all believe in the power of sport to generate diplomatic, social and economic impact.